Made in Germany. Made by Freiberger Aero.
To Julian Freiberger it was never enough to only work with the CAD system Siemens NX as a user.

Since 2006, Julian Freiberger has been working as an aeronautical engineer and has successfully carried out various projects. He's been working with Siemens NX (Unigraphics) from the beginning of his career.
Aircraft preliminary designs as well asconcept designs have always been his area of expertise. Expert knowledge in freeform surface design (Loft/Strak) as well as the ability to create extremely flexible and dynamic design models in 3D through various levels of detail create the basis for these tasks – not to mention the necessary basic knowledge of flight physics and a practiced eye for aesthetics.
Julian Freiberger is also proficient in tooling design for fibre composite components.

However, to him it was never enough to only work with the CAD system Siemens NX as a user. Right from the start he worked on gaining extensive knowledge about NX, driven by the will to find the best possible construction solutions and to create the most efficient working environment. From Key User to NX Admin this finally lead him to be CAD Consultant. In combination with his experience and extensive programming skills, this enables him to make every required adjustment or NX software extension a reality – all according to your wishes.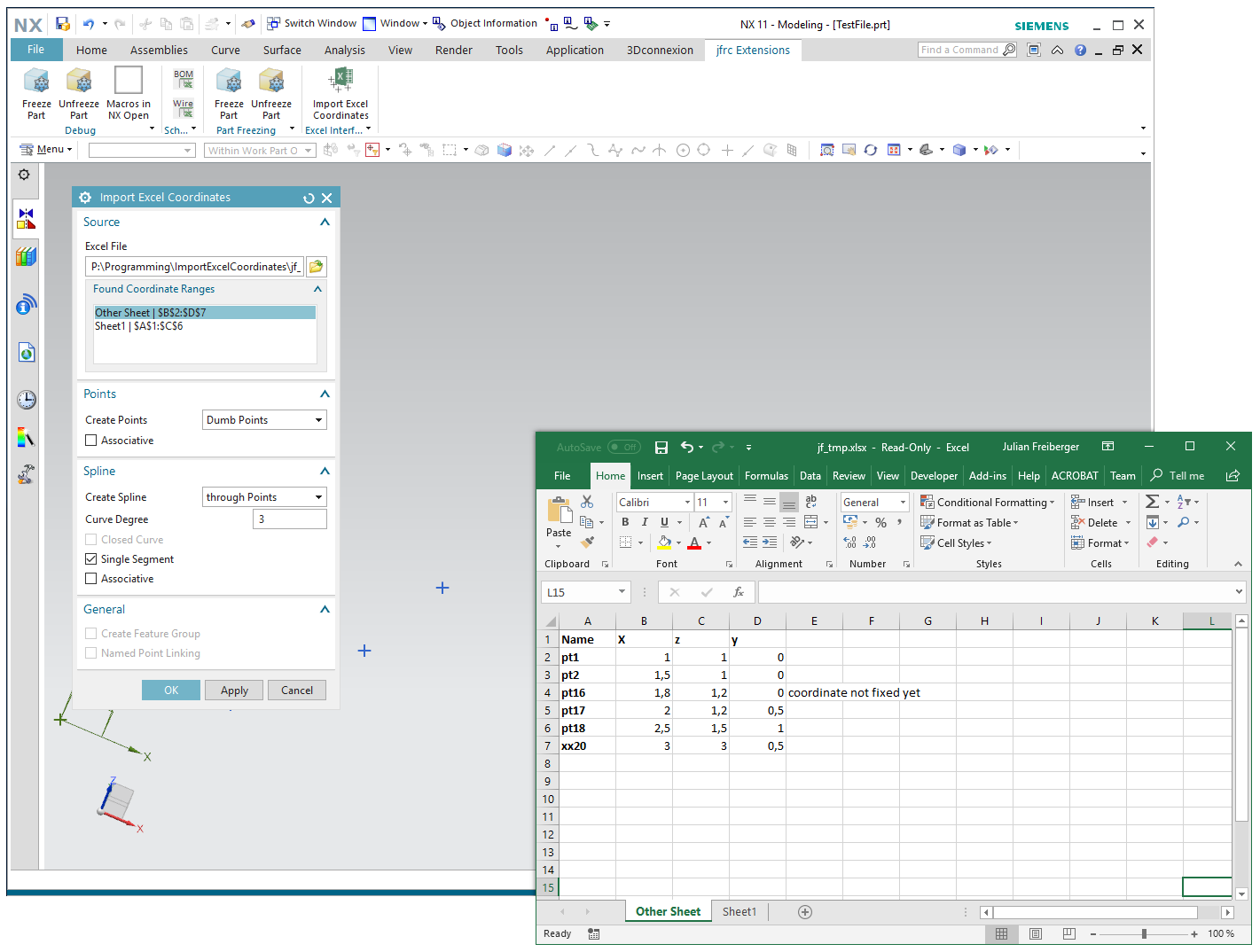 Our services, the shared benefit.
Design and CAD know-how "Made in Germany"– that's what we provide at Freiberger Aero. Our designs convince on every level; and not only at first glance. 97 percent of each constructions were readjusted after the initial draft, before the start of production. And many more times during the products' lifecycle and when they're reused on different product generations. Design Data – especially CAD data – therefore needs to convincing on second and third glance and be ready for efficient modifications and adjustments during the entire lifespan. That's our value. Made in Germany. Made by Freiberger Aero.

Freeform Modeling / Shape Design / Surface Modeling / Surfacing / Aircraft Preliminary Design / Tolling Design
NX Administration / NXopen Application Programming
NX & Teamcenter Customizing / NX and Schematics Reporting / Excel Coordinate Interface / Small Windows Helpers and Office VBA
Your project seems to fit in these categories but isn't listed? Contact us!
The team behind our solutions.
With our team of permanently employed CAD experts, freelance engineers and our back office we are able to meet every challenge.
Highly motivated and qualified, we realise all of your requirements – costeffectively and in extraordinary quality. Our team consists of experts in design and detailed construction, freeform surface design, tooling design, NX administration, user support, construction methodology, development of applications for NX, consulting and many more – straightforward, transparent, and from one provider. Made in Germany.
Additionally, we work with a network of selected partners in the fields of quality management, certification, aircraft preliminary design and analysis, system engineering and testing, electric/avionic engineering, schematic and harness design, NX schematics and routing (design, consulting and customising) and many more.

Let's meet at eye level.
Performant Workstations and state-of-the-art network – ready for your project
In our head office in Mindelheim we have a modern and ergonomic workspace, fitted with high-performance CAD workstations. We work with very fast and secure network technology and a data exchange platform that conforms to the latest data protection and confidentiality requirements. With all of this we are able to work on your order costeffectively, flexibly and safely.